Nokian Rockproof Tyres Available in Shipley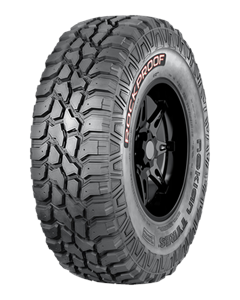 ---

Rockproof
More information
Summer tyre for light trucks, SUVs and off-road use
New summer tyre offers extreme durability for professional driving and off-road enthusiasts. It is a fearless performer at quarries, forests and mining areas. This sturdy new tyre is a tireless workhorse with a thoroughbred mining compound that can handle even unexpected impacts during demanding off-road use.
Extreme cut resistance, more working hours
The tyre's extreme cut resistance comes into its own during professional use in mines and quarries as well as in off-road driving.
Better durability
The stone ejectors improve the tyre's service life and offer additional protection by preventing tyre body damage.
A new type of durability and protection
The fibre makes the tyre more resistant to impacts and cuts that could otherwise easily damage it.
---