Roadstone N Blue Eco 195/55R16 91VV

available in Shipley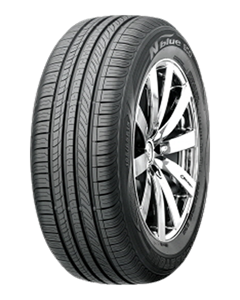 XL
---

N Blue Eco
Roadstone ROADSTONE N BLUE ECO 195/55R16
---
More information
Eco-Friendly
Excellent energy saving
N'blue eco combines a number of green technologies including LRR full silica compound and construction design to reduce the tyre's rolling resistance by 20% resulting in good energy efficiency.
Reduction of C02 emission
N'Blue eco's optimized tread pattern and carcass profile minimize rolling resistance for better fuel efficiency and less C02 emission.
Eco Technology
Show Technology on N'Blue eco's asymmetrical pattern
Safety
With it's combination of circumfer - ential and lateral grooves, N'Blue eco provides improved water evacuation, resulting in a superior braking and handling performance.
Handling
A rigid and solid outer shoulder and inner block provide better grip for improved cornering power and exceptional braking in severe driving conditions.
Optimized tread Wear
Tread contact patch optimized by void ratio of both center and shoulder part and each block stiffness prevent irregular wear and provide a longer tread life.
Reduce rolling resistance
RFS
Optimized tread pattern and profile provide lower fuel consumption and C02 emissions, resulting in a good energy efficiency.
Silence system
NES
Computer optimized, asymmetric tread pattern and variable pitch blocks by random search method reduce noise generation, resulting in a more quiet ride.
Efficient water drainage
HES
Four circumferential "see through" grooves simulated by Computer allow exceptional water drainage to resist hydroplaning.
Longer tread life
FOS
Through the optimization of tread profile and construction, computer designed tread blocks provide minimized irregular wear for a longer tread life.
Eco Driving
Be Comfort
High Performance Cornering
Solid Shoulder Rib facilitates precise cornering and keeps in tune with every corner by distributing cornering forces.
Efficient water drainage
Well positioned straight and slightly curved lateral grooves effectively evacuate water from the tyre.
Performance with Low Tread Noise
Acoustically tuned 5 pitch sequence layout reduces road noise and vehicle vibrations, leading to a high level of on-road comfort.
Outstanding Straight Performance
Continuous 3 center ribs with optimal block distribution provides steering stability performance at a high speed.
Precise Control in wet conditions
Hydrophilic lateral Grooves and extra-thin sipes reduce braking distances and secure high braking safety on wet roads.
---
Roadstone
195
55
16
V (Max Speed: 149mph)
91V (Max Load: Unknown)
Find 195/55 R16 Tyres